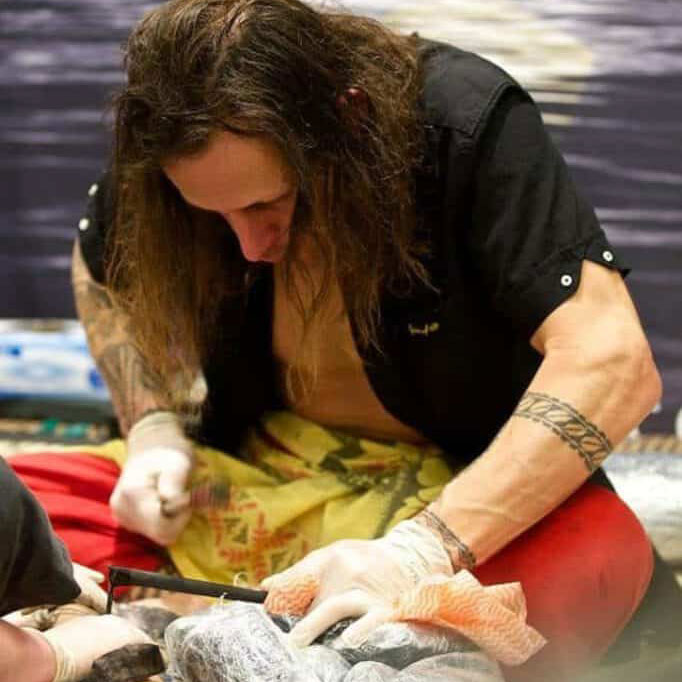 Once around the world and back
Born in Offenburg, Germany, Tomasi Sulu'ape was already fascinated by art and design at a young age. design. During his apprenticeship as a carpenter, he dedicated himself with great zeal to the traditional carving. Now there was craftsmanship, art, creativity, but something was missing. So Tomasi Sulu'ape set out on a journey.
The passionate surfer followed the call of the sea and and so the waves drove him along the coasts through Europe, Africa, South America, the Caribbean,
Asia, New Zealand and the Pacific islands. During a longer in Trinidad, Sulu'ape met the fisherman Elton Pouchet, who became a good friend and mentor. friend and mentor. On the beaches of Trinidad. The Ortenau boy learned to read the Ocean to read and draw his inspiration from nature.
As a student at the Abstract Art Acadamy, he truly immersed himself in different cultures and especially their art. All over the world, Tomasi Sulu'ape learned from art
carvers, instrument makers, and painters. Finally, he found his destiny in the Tatau culture, the traditional tattoo art of Polynesia. This close relationship was initiated by the trusting relationship between Tomasi and Sua Sulu'ape Petelo, who officially adopted him and thus  welcomed him into the Sulu'ape family. There Tomasi was initiated into the traditional Samoan art of tattooing. Thus internalized the technique, tradition and philosophy of the Samoan tatau. After ten years of wandering, Tomasi Sulu'ape finally returned to Germany. Internationally, he enjoys an excellent reputation as a renowned tattoo artist, who has brought the Samoan art and culture of Tatau celebrated, lived and passed on.
He is founder and President of the Traditional Tattoo Association, a member of the National Tattoo Association of America and the Pacific Tattoo Association of Australia, and a host of international tattoo events.
Tomasi Sulu'ape lives with his Family  in Freiburg im Breisgau, Germany.
Teaching position with AAA Honorary teaching position with Abstract Art Academy associated with Unesco I
International Teacher ITIC T049000754 308 J
Honorary diploma for Arts and Poetry Honorary diploma for Arts and Poetic T049000754 308 J
Honorary professorship honorary professorship in trad arts polynesia and development aid to oceanic
natives international professor Identity ITIC T049001 101 034 X
2019 foundation of the Traditional Tattooassociation TAT registration register of associations VR
702667Local court Freiburg / association for the preservation of traditional
cultural assets in the field of traditional tattoo culture (international members) position 1. chairman