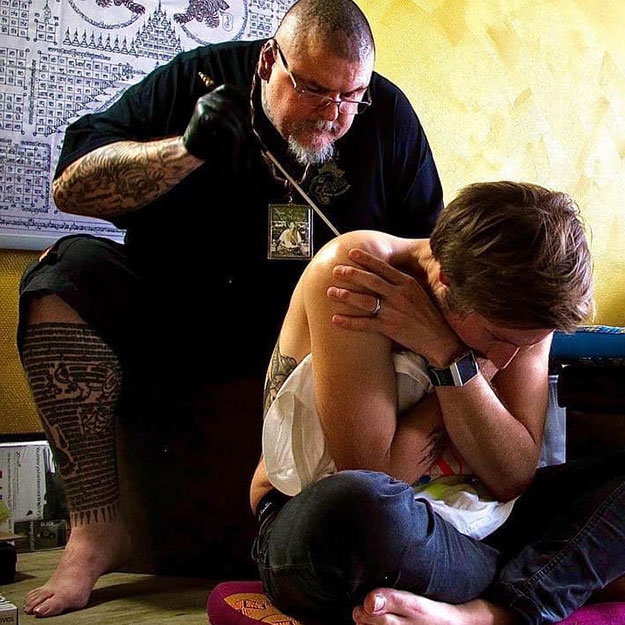 Style: Traditional Thai Sak Yan
Ajarn Matt was born in 1972 in France a few kilometers from Paris.
He heard about Sak Yan for the first time 20 years ago but really started to meet thai masters in 2009. Ajarn Matt got tattooed with sacred designs since then by 25 thai Ajarns and started studying Sak Yan.
This was a big change in his life and he travelled all over Thailand to meet and get inspired by hundreds of sacred tattoo masters.
In 2013 he first becomes the student of Phra Ajarn Man and started learning
magic from Luang-Phor Nong-Pawan and Luang Pu-Nai's lineage with him.
At first he practiced Sak Yan in the temple of Wat Waruwan in Pathum-Thani.
In the same year the great Sak Yan master Ajarn Thong decided to take the new Ajarn Matt under his patronage and made him the great honor of «Kob Tamla» and «Kob Khem» the highest blessing for Sak Yan masters and encouraged Ajarn Matt to practice.
Ajarn Matt learned from him magic spells from the famous Phor Tiang's lineage.
In December 2013 Ajarn Matt was ordained as a monk for a short period in Wat Waruwan of Pathum-Thani. At this point he decided to change his life and dedicate his time to practice and study Sak Yan and the learning «Wicha of Sayasart» (learning of magic).
In 2014 Ajarn Matt stopped all his activities in France and moved to Thailand.
Early 2014 Ajarn Matt received his yan kru (signature magic tattoo) from Ajarn Thong.
Since then Ajarn Matt started travelling all over Europe and Asia.
He moved to Hua Hin in 2015 and openned a new samnak to welcome his luksits from all over the world.
The late Ajarn Dech Theppatnom later became a mentor to Ajarn Matthieu then in 2016, the famous Poo Lersi Sompit followed by Ajarn Po Dam in 2019 also became his masters.
Now Ajarn Matt uses his time between learning wicha from his masters,
travelling and practicing Sak Yan all over Europe and studying ancient tools for a book project.